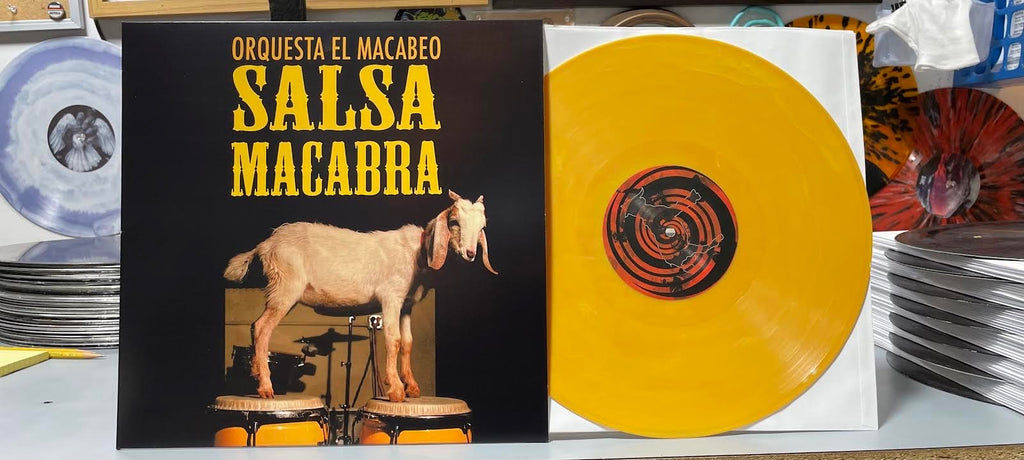 Orquesta El Macabeo - Salsa Macabra - LP Yellow "Wild Card" Vinyl
Indie salsa classic reissued for the first time on vinyl with proper mastering and restored original artwork. This is the yellow "wild card" edition. All records are factory sealed; this photo is just to give an idea of what the color looks like; each may vary.
Peace & Rhythm and Discos De Hoy present a reissue of Orquesta El Macabeo's Salsa Macabra, originally released in 2010. When Salsa Macabra was first released on an unsuspecting public in Orquesta El Macabeo's home country of Puerto Rico, it generated an aural and intellectual charge of electricity that challenged the status quo of mainstream, romantic, and popular folkloric Puerto Rican music, and flaunted accepted norms of what constituted contemporary high-budget commercial salsa and even "salsa dura" (hard salsa). 
Independently produced in a small studio in the band's home turf of Trujillo Alto, the record's irreverent attitude, indie spirit, and brash playing was a shot across the bow to a market that had grown complacent with "bedroom" and Teflon pop salsa that was the norm in an industry overwhelmed by the success of reggaeton and bachata. 
The lo-fi Goth aesthetics, sense of irony, and dark humor, as well as social critique that permeate through Salsa Macabra connects them to the DIY, metal, and punk cultures, a musical kinship that at this point has become a cliché when describing Macabeo, even though they first deemed themselves as "rockeros con guille de salseros" on this album (a Puerto Rican slang way of saying they are rocker "wannabe" salsa players). Salsa Macabra's raw "garage salsa" -- all originals -- tells stories of love and heartbreak, of rackets and tricksters, of pride and deception, nightlife and consumerism. 
To this day the band is known for their uncompromising commitment to the DIY aesthetic and independent business model and with every passing year their audience and reputation grows, mainly because they have managed to hit a nerve, connect to salseros craving that old-school sound and message but also something that speaks to their own contemporary experiences in an unadulterated and honest manner. 
This then is the album that started it all, with several tunes that have become anthems in the ensuing years. The reason for reissuing the album now is that originally it was not mixed and mastered, and the album came out in an extremely limited pressing, with the wrong artwork. The recording has now been properly mastered, with a quality vinyl pressing, the original artwork restored, an insert that features full credits and lyrics, and new liner notes on the back.
Wholesale distribution by Forced Exposure.
Listen and purchase the digitals at Bandcamp.
---
Share this Product
---
More from this collection